Product Introduction
1. OKI MediaServer Function & Specifications
OKI MediaServer provides a total solution for video streaming services including encoder, distributions, and decoders.
2. Multi Encorder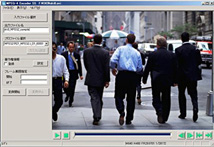 The systems supports several encoders suitable by the system scale, such as real-time encoders for the live video streaming in the IP network and the simple software encoder for small VOD service.
3. Multi terminals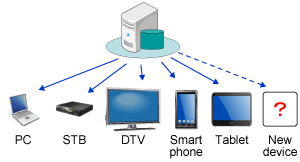 It supports various terminals such as PC, STB, TV, smart phone, tablet.
OKI MediaServer Function & Specifications
OKI MediaServer is a large-scale integrated IPTV platform for multi-network and multi-terminal service (smart phone and tablet PC).
Large disk management and distributed video delivery functions are appropriate for future network PVR and UGC services.
OKI will continue to enhance the OKI MediaServer for future video services.
Function
IPTV Applications - Start Over Function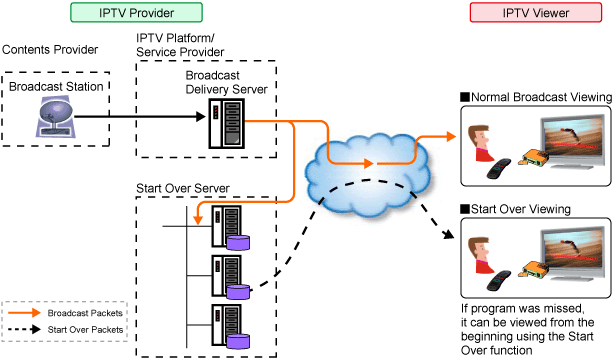 IPTV Applications - Video Merge Function
Additional videos such as commercials can be added to the beginning and end of the main program
Several episodes of a series can be merged and delivered as a single program
Combined with a recommendation server, commercials that meet each customer's particular interests can be chosen and merged with the main program
Network-PVR (N-PVR)
Features

Customers pay a monthly fee and receive program recording service (no need for customers to maintain a DVD recorder or HD at home).
Broadcast programs recorded (stored) at the head-end and delivered to various terminals.

Commercialization issues

If 0.5TB of space is allocated per customer, service to 1 million subscribers will require 500PB (Petabyte = 1,000TB) of disk space.
Commercialization is stalled due to lack of copyright agreement with the contents provider. Various issues are expected to be resolved opening the way to N-PVR commercialization.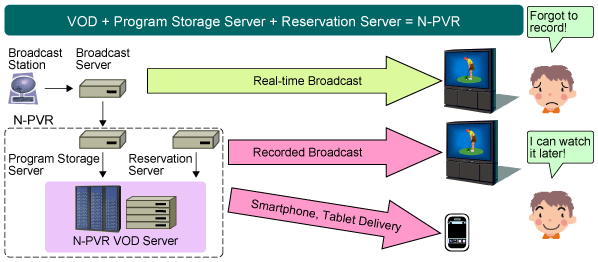 VOD Linked CM Delivery (1) - Overview -
Use of digital video recorders is on the rise, and more viewers are skipping commercials when watching self-recorded broadcast programs.
Recording and delivering broadcast programs from the server enables control of trick-play during commercials and enables replacement of commercials.
OKI MediaServer's video merge function allows main programs and commercials to be freely combined in real-time and delivered to viewers.

Different CM combination can be delivered for each session depending on viewer or time of day.
Merged video is played back as a single content, so it can be viewed on existing terminals.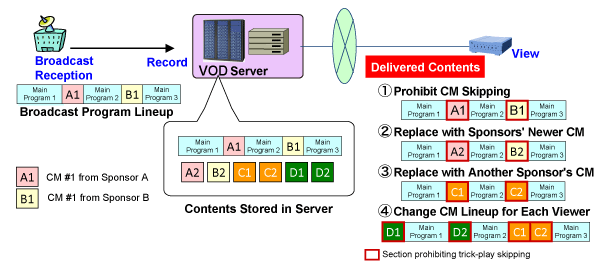 VOD Linked CM Delivery (2) - Delivered Contents -
1. Prohibit CM Skipping
Use of trick-play during CM spots can be prohibited to prevent skipping of CM viewing.
Ensures CM is viewed, thereby giving broadcasters more advantageous sales of CM spots to sponsors.
2. Replace with Sponsors' Newer CM
CM A1 in the recorded program can be replaced with A2 before delivery.
CM that better matches the viewing period can be delivered, thus give broadcasters opportunity to collect additional revenue from sponsors.
3. Replace with Another Sponsor's CM
Recommendation server can be linked to select CM that meets the viewer's interests, or CM of another sponsors can be delivered similar to reruns.
Broadcasters or program distributors can collect CM for revenue.
4. Change CM Lineup for Each Viewer

At time of program delivery, series of CM can be inserted before, after or between main programs without changing main program structure.
High degree freedom in CM delivery and potential for more CM revenue from a single program delivery.
List of functions
Item
Main Function
Stream delivery
(Delivery to Unicast/Multicast/Live/Mobile・Tablet)
IPv4 and IPv6 network support
Encryption delivery function
Mobile (HLS) delivery function
Operation Management
Server status indicator function
Log output function
Configuration function
User management function
Contents management function
Meta data making function
Program editing feature for Start over
Cooperation with the external system
License management
Billing system
Authentication system
Service Information Server
Specifications
Server
Server system
Single server, Loosely coupled clusters, Distributed VoD servers
Video Service
Video on Demand, Live streaming, Broadcasting, Network-PVR.
OS
Solaris, Linux
Storage system
HD: Software RAID (RAID0, 5), Hardware RAID, Two dimension RAID system
Memory: RAM
Protocols
Transport: RTP/RTCP, RTP over HTTP ISMA compliant, HTTP
Session/Stream control: RTSP, RTSP over HTTP, HTTP,
IPTV terminal control: ITU-T H.721
HLS(HTTP Live Stream)
Video format
MPEG1, MPEG2, MPEG4, H.264(SD/HD)
Audio format
MPEG1-LII,III MPEG2-AAC, MPEG4-AAC
Metadata DB
RDB(Oracle Database), File System
Realtime encouder I/F
MPEG2, MPEG4, H.264 over RTP/UDP IPv4 or IPv6
Operationg & Management
Web based operating & management, License management,
Content management, Distribution management system are supported.
Player on PC
CPU/OS
Pentium® III, 700MHz or above recommended,
Windows XP / Vista / 7
Decoder
MPEG2, MPEG4, H.264
Encoder on PC
CPU/OS
Core 2 DUO®, 2GHz or above recommended, Windows XP / 7
Encoder
MPEG4, H.264(SD)
AV capture
Ospray, USB
Windows is a registered trademark in the United States of American Microsoft Corporation and other countries.