Technologies
Features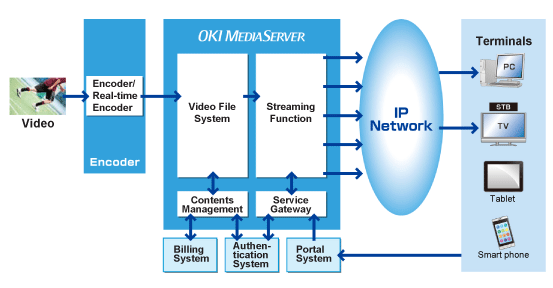 Features1: OKI MediaServer provides a total solution for video streaming services
1. Multi-device support
It supports various terminal devices such as PC, STB, TV, smartphone, tablet.
2. Multi-encoder support
It supports several encoders / live encoders
3. Multi-DRM support
It supports various DRMs(*1)that is allowed to deliver Hollywood contents
4. Multi-tenant support
By connecting with third party CMS/SMS, it suports multi-tenant functions. (*2)
*1: OKI DRM, Marlin are supported. PlayReady will be supported at the end of March, 2013
*2: the release will planned at the end of March, 2013
Features2: Scalability
Scalability and excellent cost performance can be achieved by standard servers/IP switches and original parallel file systems
Supports from small-scale systems up to large carrier-grade systems
Basic System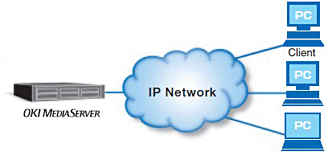 Most basic system configured using a single standard PC server.
Ideal for local video delivery using the intranet or as an entry model.
Parallel System/Distributed System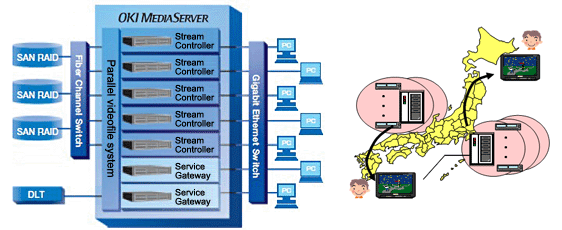 Parallel file systems adopted to share contents between multiple streaming servers.
Large-scale system with excellent availability and cost performance achieved by distributing CPU and storage loads.
Expand to a multi-location VOD system
Features3: a variety of encryption
Safe, high-speed encryption adopted for Hollywood contents distribution services
Session key method: Encryption key generated on a per session basis results in high security.
Proprietary high-speed algorithms.
Contents can be encrypted while copying from center server to local servers.
Real-time encryption (OKI DRM)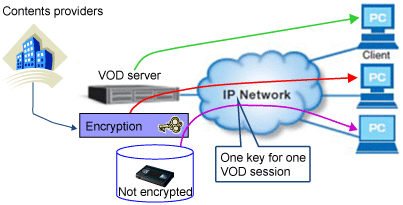 OKI DRM generates session key and encrypts contents in real-time during delivery.
One content is encrypted by one new key whenever it is requested.
Real-time encryption function supports keys generated by Marlin-IPTV-ES.
Hybrid encryption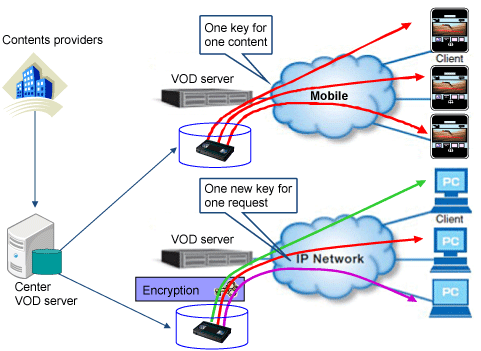 Real-time encryption (OKI DRM) and pre-encryption method can be used in one system.
Pre-encryption method encrypts contents while the center server delivers contents to local servers reducing encryption costs.