Part 12: Cash Dispensers (CDs) and Automated Teller Machines (ATMs)
In the mid-1960s, online systems that allow real-time transaction processing swept the financial institutions, banks in particular. OKI received an order from Fuji Bank (now Mizuho Bank) seeking the most advanced online system at the time. In part to demonstrate its expertise and experience as a manufacturer whose name was synonymized with "terminals," OKI tackled the challenge of developing cash dispensers (CDs) and automated teller machines (ATMs).
Financial institutions spearhead the construction of second-generation online systems
Corporate information systems are generally constructed to support business activities. In contrast, the systems used by banks are directly linked to the products and services offered by the banks. This means the quality of the infrastructure established by each bank has a major effect on how the bank itself is regarded. Financial institutions headed the transition to second-generation online systems that began in Japan in the mid-1970s.
In 1972, planning its second-generation online system ahead of other banks, Fuji Bank asked OKI to develop a new terminal system. The bank wanted to renovate its existing system, which handled only deposits and currency exchange, into a more sophisticated online system capable of processing the full range of bank operations.
In response, OKI developed the OKITAC-1300 terminal system in 1973. While the first-generation online system required the host computer to perform all processes for terminal units, the OKITAC-1300 used terminal controllers (TCs) installed between the host computer and terminal units. Equipped with memory (65 Kbytes) as capacious as found in the mid-sized computers of the time, the TC performed input/output data check and editing. Each TC could control the operations of several branch offices, reducing the workload on the host computer. The OKITAC-1300 also allowed the connection of more terminals, contributing to widespread use of online systems by financial institutions.
Development of automated teller machines by trial and error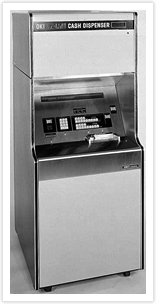 First CD delivered to Fuji Bank
In November 1975, Nippon Cash Service ("NCS"), a company established jointly by city banks, local banks, and mutual banks, began operating cash dispensers (CDs). NCS installed CDs in train stations, department stores, and other locations, spurring rapid diffusion of CDs. Immediately after ATMs appeared in 1979, the market for automated teller machines expanded sharply.
OKI delivered the first CD machine to Fuji Bank in December 1970. In 1974, its cumulative sales of CDs reached 2,000 units. That year, OKI began developing automatic depositors (ADs). In this effort, the know-how accumulated during the development of CDs proved useless. Since the banknotes customers pulled from their billfolds varied significantly in condition, ADs had to process severely worn banknotes that human bank tellers would not ordinarily hand to customers. These machines had particular difficulty separating banknotes. To handle this latter task, OKI developed a new rotary-type suction mechanism incorporating a vacuum pump. OKI faced another difficult challenge: To keep a second banknote from sticking to the first banknote. After repeated trial and error, OKI developed a mechanism incorporating a rubber belt rotating in the reverse direction to separate the second and subsequent banknotes.
The challenge: Developing the world's first cash-recycling ATM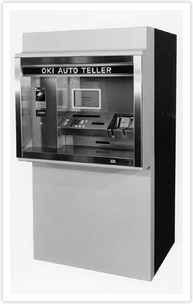 ATM manufactured by OKI
Financial institutions installed many ATMs in their cash service corners during the 1980s. These ATMs tended to feature two cassettes: one for deposited banknotes and another for banknotes to be dispensed. Each ATM contained a large amount of cash. OKI began examining efficient systems that would allow deposited banknotes to be immediately used for customer withdrawals.
The most difficult part of this development was to neatly place all the deposited banknotes, ranging so widely in condition, in the stacker (cashbox) for storage, and then to dispense these banknotes from the stacker one by one for withdrawals. The mechanism required to handle this task (and thereby develop the world's first cash-recycling ATM) took OKI roughly one year to develop. In 1982, OKI unveiled the AT-100 series ATMs, featuring an all-new banknote acceptance and dispensing system. The AT-100 series included models offering various novel functions, including bank transfer using a color display and envelope acceptance functions. Automated bank transfer machines added functions that allowed them to accept coins and return change; this allowed customers to use both cash and bank cards to transfer money.
Today, ATMs can be found all over Japan, including most convenience stores. This state of affairs is based on the many obstacles overcome during the early years of ATM development.