Part 2: OKI's Founding and Business Expansion
In 1881, Kibataro Oki had founded Meikosha, Ltd., an event that could be described as the dawn of Japan's telecommunications industry. The company embodied his foresight and challenging spirit—in short, his entrepreneurial spirit.
Formation of the "Yarukisha"
Already a primary engineer at the manufacturing facility when he was striving to copy new telephone devices, Kibataro, together with colleagues including Shoichi Miyoshi, Chujiro Taoka, and Ginjiro Wakabayashi, organized within the facility a group called the "Yarukisha." This was a simple name for a group that also fully embodied its own motivations, combining the Japanese words for enthusiasm and electricity.
With a membership based on core engineers at the facility, the Yarukisha was a research group that attempted to advance domestic Japanese production of electrical materials, apart from its members' regular duties. Wakabayashi and Taoka produced Morse ink and carbon paper, while Miyoshi devised a silk wire-coil making machine. Kibataro also developed a Daniel cell made of paper and lacquer-coated electric wire. Each of these innovations won commendations from the Ministry of Industry for reducing reliance on imports.

The home of Yasuyo Ishimaru, who operated a
plant that served as a subcontractor to the
telegraph bureau.
These achievements gave Kibataro considerable confidence and fostered ambitions to go into business himself. Since telecommunications was an essential lifeline for the nation's security and economy, the ideal was to avoid dependence on foreign countries in this area. For this reason, the Japanese government had worked out a policy of encouraging domestic production. Kibataro and his colleagues were confident that they could achieve this goal through their own efforts.
At the same time, the manufacturing facility ceaselessly expanded its numbers of engineers and workers and installed more equipment. Perhaps inevitability, this led to some factionalization. The resulting complexity of interpersonal relations at the facility created a somewhat chaotic environment that fueled Kibataro's own ambitions. It also helped spur his entrepreneurial spirit.
The true face of Kibataro Oki as a businessperson

Exterior of a sketch of the
"microsound" device
In 1881, Kibataro Oki founded Meikosha, Ltd., in a corner of a two-story brick building in Shinsakanacho in Tokyo's Kyobashi district. Despite this modest start, more than 10 colleagues and younger coworkers joined him, suggesting he had earned considerable trust.
Soon after going into business for himself, Kibataro achieved something for which he would be recognized: the development of the first telephone to be produced in Japan. This telephone, which he called a "microsound" device, caught the attention of the Meiji Emperor at the National Industrial Exhibition held that March in Ueno Park. The silent encouragement from the Emperor further solidified Kibataro's belief in creating a business that would benefit the entire nation of Japan.
Kibataro was a man full of inspiration. A demonstration at the Ryounkaku tower in Tokyo's Asakusa district was highly successful in spreading the name of Oki Electric Works among the general public. Curious Tokyo residents called this 12-story tower built in Asakusa Park, "Ju-ni-kai" ("12 floors"). Visitors thronged to it day after day. Kibataro installed a telephone connecting the 12th and first floors to pique public curiosity at a time when no public telephones existed.
Steps toward business expansion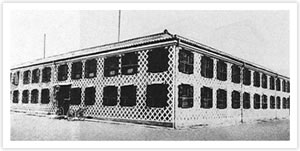 The Kyobashi Shin'eicho plant, expanded under
government plans to expand the telephone network
Based on the national objective of developing a domestic telecommunications network, the Japanese government announced plans for large-scale expansion of the telephone system. covering the seven-year period from 1896 through 1902, this was the first long-term plan for the telephone system.
Seeing this as an opportunity to expand his business, Kibataro devoted himself entirely to this task. He tackled the challenge of constructing a massive factory, pouring into this project all the technological and financial achievements accumulated over 15 years. He felt a sense of mission driving him to ensure that powerful new foreign models would not sweep over the telephone network—the nation's nervous system.
Oki Electric Works would eventually secure its position as Japan's largest manufacturer of electric and telecommunications products. Its only rival in the domestic market was Western Electric, the world's largest manufacturer of telephones at the time. However, in 1898, in the midst of the nation's first long-term plan for a telephone system, Kibataro received an offer from Western Electric for a capital joint venture. He would eventually reject this offer. In this we glimpse his conviction that a company was a public entity that owed its allegiance to the nation, as well as his self-confidence in his own business and technological acumen.
At the same time, sensing his own deteriorating health, he was concerned as to the security of his employees if Western Electric were to take control of his company if he died. In later years, Oki & Co. would be organized as a limited partnership with employee participation in ownership, a structure that perhaps expressed his loyalty toward his employees.