Part 1: The challenge of founder Kibataro Oki
The arrival of the "Black Ships": In 1853, four ships of the United States Navy's East India Squadron, led by Admiral Matthew C. Perry, arrived in Edo Bay's Uraga Harbor, with the goal of compelling the Edo Shogunate to open Japan to the outside world. The ensuing events moved Japan into the currents of the wider world and led to the Meiji Restoration, as the ideas of numerous individuals with patriotic ambitions interacted in a complex mosaic.
Living by one's technical skills

Kibataro Oki
On May 10, 1848, five years before the arrival of the Black Ships, OKI founder Kibataro Oki was born in the village of Shinjo in Numada County, Hiroshima Prefecture (today's Shinjocho, Nishi-ku, in the city of Hiroshima). He was the youngest of six siblings born to father Taro and mother Nobu.
Kibataro would spend a quiet early childhood amidst natural surroundings. He differed from childhood friends in two areas. One was an intensely competitive personality. In particular, he loved sumo wrestling. If he lost, as playmates recalled, "he believed, that was the end"; he would "bite the opponent's shoulder and not let go" (from Kibataro Oki).
The other characteristic was a dislike of farming and his insistence on becoming a carpenter. Although the Oki family had begun to decline, it was a large and prosperous farming family with numerous employees. It's unlikely Kibataro disliked farming because he saw impoverishment in this direction. Perhaps he wanted to be a carpenter because he saw carpentry as a profession in which one could make a living based on one's technical skills.
These two characteristics hinted at some of the natural talents Kibataro would later put to use as an engineer and businessperson.
Going to Tokyo with a heart brimming with ambition
Japan entered the Meiji Period when Kibataro turned 20. Young people from across Japan rushed to the capital city, now called Tokyo. Men walked in the streets with fashionable cropped hair. In 1872, the whistles of steam trains began sounding between Tokyo's Shimbashi and Yokohama.
With a heart brimming with ambition and determined to make his way to the capital, Kibataro left for Tokyo on his own. In 1874, when he was 27 years old, he took a ferry to Yokohama, then disembarked from a steam train at Shimbashi.
He recalled his thoughts at this time. "When getting off the train with anticipation at Shimbashi Station in the imperial capital, I was petrified. It was just like wandering into a dream world" (from Kibataro Oki).
That year saw an epochal event with dramatic implications for the future of communications in Japan: the completion of a telegraph trunk line from Hokkaido in the north to Kyushu in the south. The Japanese government had compiled a white paper on industrial development, signaling its fundamental industrial policies to the larger world. In 1870, the government established the Ministry of Industry to implement these policies. In 1873, it established manufacturing facilities in the telegraph office within the Ministry of Industry to manufacture and repair telegraph equipment. Given Kibataro Oki's subsequent path, the exquisite timing of his arrival in Tokyo appears fated.
Joining a Ministry of Industry telegraph manufacturing facility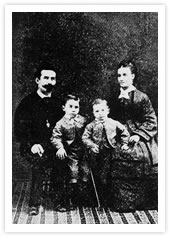 Schaeffer and his family
Kibataro, who had no concrete goals at the time, paid a visit to Ryuzo Harada, an older man from his hometown who worked as head of engineering at a telegraph office of the Ministry of Industry. Harada hired Kibataro as a live-in houseboy. Each day, Kibataro walked to the telegraph office in Tokyo's Shiodome, carrying his master's lunch.
The office housed a technical school where students learned how to operate telegraph equipment and a manufacturing facility that produced telegraph equipment. Kibataro, who had been a silversmith, became interested in the work performed at the latter facility. Gradually, file in hand, he began spending more and more days helping out at the manufacturing facility.
As Kibataro helped at the facility, his enthusiasm, honesty, and gifts became apparent. Encouraged by recommendations from those around him, he knocked on the door of the manufacturing facility, reportedly submitting his resume accompanied by a silver ornamental hairpin he had made himself.
The facility manager was a Swiss engineer named Louis Schaeffer. Schaeffer's skills appeared near-superhuman. In his scrupulous work making individual drills and bites, he could tell by sight the degree to which metal had been tempered. Kibataro, whose enthusiasm, diligence, and technical capabilities Schaeffer recognized, worked day after day in front of a lathe to gain the precision skills he needed. In the winter of 1875, as his contract with the Japanese government expired, Schaeffer left the manufacturing facility. As a parting gift, he appointed Kibataro to the position of craftsman, primarily in charge of the lathe.
The telegraph offices became the telegraph bureau in 1877 as part of a ministerial reorganization. Kibataro was promoted to the position of a level-two assistant engineer, type nine, within the Ministry of Industry. This was a remarkable advance: In roughly three years after arriving in Tokyo, file in hand, and two years and four months after joining the manufacturing facility as an odd-job man, he had been appointed assistant engineer in the Ministry of Industry. While chance had a hand in his arrival at the manufacturing facility, it is unquestionably Kibataro's personal qualities that created the opportunities that followed.