The machine supports Google Cloud Print.
Google Cloud Print is a print service that enables you to output data to a printer from a mobile phone, smartphone, computer, or other devices via the Internet.
With Google Cloud Print, you can send documents or images to a specified printer from anywhere. For example, you can print from your computer at home to a printer in your office, or from the application you always use to your printer at home - such printing can be easily achieved. There is no need to install drivers or download software.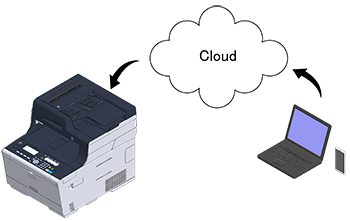 To use Google Cloud Print, you must prepare the following.
Memo
Since Google Cloud Print establishes communications via the Internet, it is recommended to employ security measures.
Restrict communications from the Internet with a firewall or other security system.

Change the administrator password that is provided by the machine from the default value.
Network devices

The network devices are computers or mobile devices that are connected to the Internet. Set up Google Cloud Print or perform print operations from supported applications.

Google account

This account is required for setting up Google Cloud Print or printing from a supported application.

Supported application

Applications that run on a network device and allow for Google Cloud Print.

For details on supported OSs and applications, visit the Google Web site. The recommended browser is Google Chrome.

Google Web site (http://www.google.com/cloudprint/learn/apps.html)

Network

Used between the network devices and the Cloud, and the Cloud and the machine.

Google Cloud Print does not support IPv6.