A Message from the President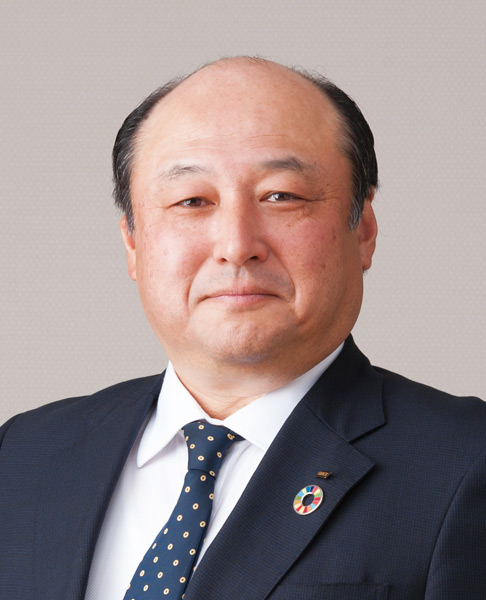 Shinya Kamagami
President
We keep people's trust through our unlimited drive based on an "enterprising spirit" and sincere business activities.
We execute our responsibilities toward societies based on our corporate philosophy.
OKI has taken on the baton from its predecessor, Meikosha, founded in 1881 as the first communication device manufacturer in Japan and the company that worked to develop domestic production of the newly invented telephone. Our corporate philosophy, "The people of OKI, true to the company's 'enterprising spirit,' are committed to creating superior network solutions and providing excellent information and communications services globally to meet the diversified needs of communities worldwide in the information age.," has inherited the strong determination it has held since its foundation to "create new businesses with new technologies" and "make the world more convenient," and has become the core of what the OKI Group considers "corporate social responsibility (CSR)."
We contribute to society through our products and services.
Based on this philosophy, the OKI Group's mission is to contribute to society through our products and services. The OKI Group has been undertaking a series of activities to correctly understand the social needs, establish technologies, achieve quality to satisfy our customers, and sustain the maintenance system as part of our sales and marketing, technology development, production, and maintenance. As a result, we in the OKI Group now play an important role in Japan for supplying and maintaining various systems including systems for financial institutions, telecommunication infrastructures for telecom carriers, and various public systems such as transportation and disaster prevention in Japan, while our ATMs and printers are widely used overseas.
Regardless of how much the environment around us changes, the OKI Group seeks to increase its corporate value. As a company that supports social infrastructure development, we believe the basis for boosting corporate value is providing products and services that contribute to the creation of a safe, comfortable society and retaining the trust of our stakeholders while constantly ensuring our clients feel secure.
We promote responsible corporate management as a global corporation.
Amid further global business expansion, we are making governance at the Group level even stronger so we can advance the notion of responsible management. At the same time, we believe it is important to contribute what we can to creating a sustainable society in terms forming an accurate recognition of social issues from various angles in our corporate activities.
The OKI Group strives to fulfi ll its social responsibility in accordance with its corporate philosophy. To that end, OKI established the OKI Group Charter of Corporate Conduct as a statement of values that OKI Group companies need to share and it set up the OKI Group Code of Conduct to be conformed to by all OKI executive officers and employees, and it is working to ensure thoroughgoing adherence to them. To advance proactive initiatives to reduce the Group's environmental impacts, we adopted the OKI Group Environmental Vision 2020 that sets targets for 2020 in four areas: realization of low-carbon societies, prevention of pollution, resource circulation, and biodiversity conservation. In recognition such activities should be advanced properly based on international norms, OKI joined the United Nations Global Compact in 2010 and engages in activities concerning human rights, labor, the environment, and anti-corruption in support of the Compact's ten principles.
This website is intended to help all stakeholders better understand the OKI Group's initiatives. Your honest opinions regarding our CSR initiatives would be greatly appreciated.